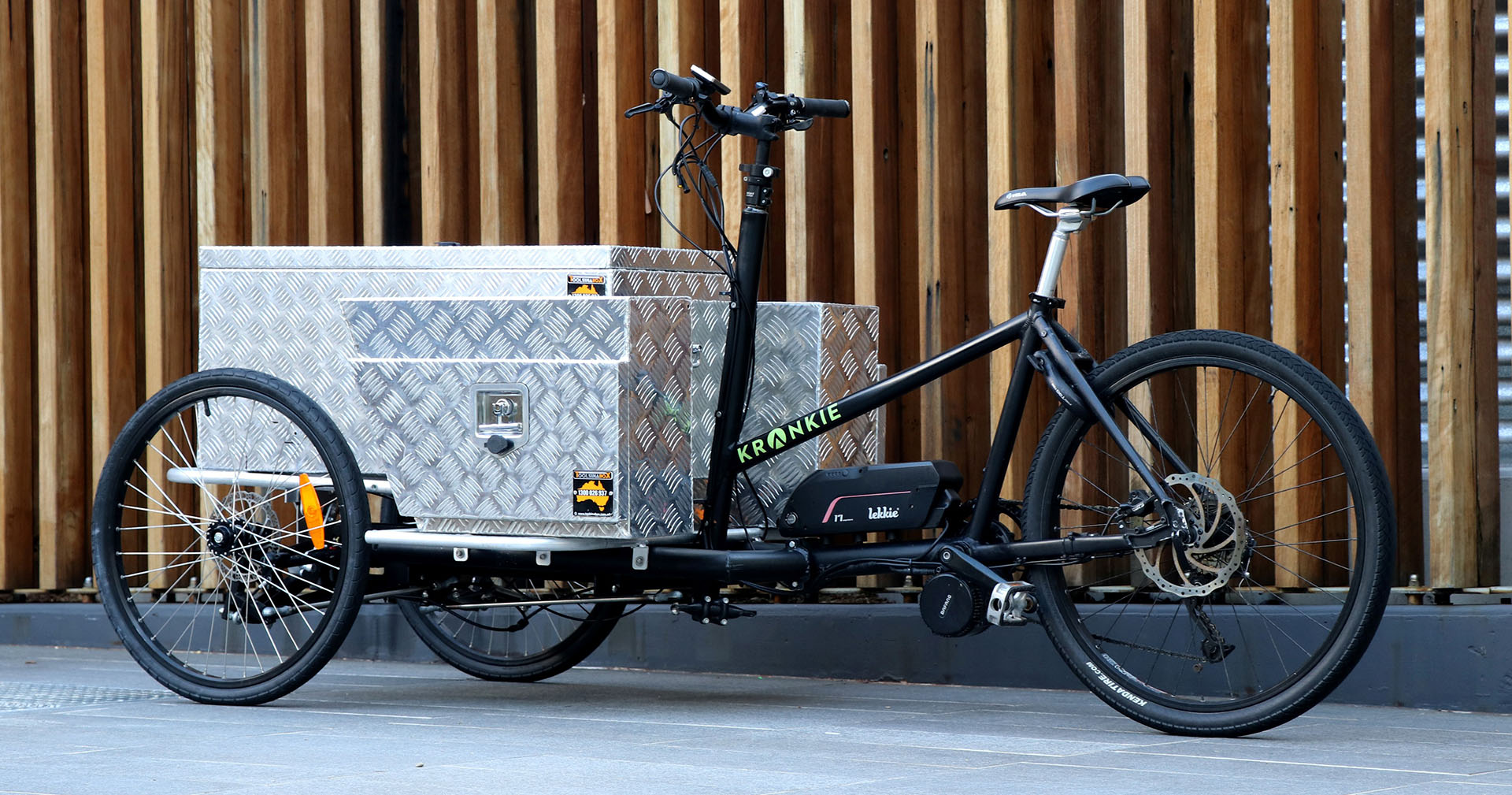 The Krankie Maxi is an extended wheelbase version of the Krankie Whip. The beefed up front end & extra 400mm wheelbase opens up a range of cargo options & setups.
The Krankie Maxi can be reconfigured to transport wheel on/off containers, mobile workstations, a variety of aluminium lockable toolboxes & a host of other equipment such as wheelie bins, lawn maintenance equipment etc.
The load (up to 120kg) sits low on the frame, the unique tilting action of the Krankie will get you between jobs efficiently & safely, with the added bonus of arriving feeling energised & refreshed. Gone is the frustration of traffic queues, fuel bills, wasted time looking for a close parking spot & the walk time from the parking location.
The high torque Bfang mid-drive motor delivers ample power for the riders needs, the dual front brakes & single rear offer impressive stopping power.
Book a ride & experience this impressive machine, the possibilities for many businesses to benefit from the capital & operational efficiencies of this transport mode is stark & compelling.
– High Torque 250w Bfang mid-drive motor system with 17Ah battery.
– Aluminium 6061-T6 frame for strength, style and convenience.

– A cargo capacity of 100kg (not including the carrier boxes & stations)
– A number of cargo options available including roll on/off containers, re-configurable tool box systems, mobile work stations, food delivery systems. 

– Hydraulic Disk brakes on all wheels, high quality transmission componentry, adjustable stem and cushioned seat post as standard.

– Front mono-shock suspension for a smooth ride for both rider & passenger or cargo.

– Lean angle of up to 20 degrees for natural cornering feel.
– Tilt lock to hold the trike vertical during load & unloading, and park brake.

– 24" front wheels for lower rolling friction & good ground clearance.

– Customisable with many options available
Maxi Technical Specifications
MEASUREMENTS
Total Length:
Maximum Width:
Mass:
Maximum Load:
.
BRAKES
Rear Brakes:
Front Brakes:
.
FRAME
Rear:
Cabin Frame:
Seat Post:
Stem:
Suspension:
.
WHEELS & TYRES
Rear Wheels:
Front Wheels:
Rear Tyres:
Front Tyres:
.
233cm
90 cm
~35kg bare
120kg + rider
.
.
Tektro HD-T290-R Hydraulic
Tektro Auriga Twin Hydraulic
.
.
AL 6061-T6 tubing
AL 6061-T6 tubing
Satori Cushioned
Satori Easy-Up (100mm adj.)
Front, DNM shock
.
.
26″ Alex rims, Novatec hub
24″ Alex rims, lefty hub
Kenda K1067 26″ x 1.75
Kenda K193 24″ x 1.5
TRANSMISSION
Crankset:
Deraileur:
Shifter:
Cassette:
.
OPTIONS
.
POWER UNIT
.
As per supplied motor
Shimano Alivio (rear only)
Shimano Alivio 9 speed Rapid Fire
9 speed 11T-34T
.
.
Roll on/off Container ~ 0.5 cubic metre capacity
Aluminium Treadplate toolboxes in variety of
configurations to suit the user
Mobile Workstations eg Sortimo
.
– High Torque 250w Lekkie mid-drive motor system
– LCD display with battery and trip data
– 36V battery (17Ah option)
– Quality Panasonic cells
– Pedal and throttle start
– Shift sensor