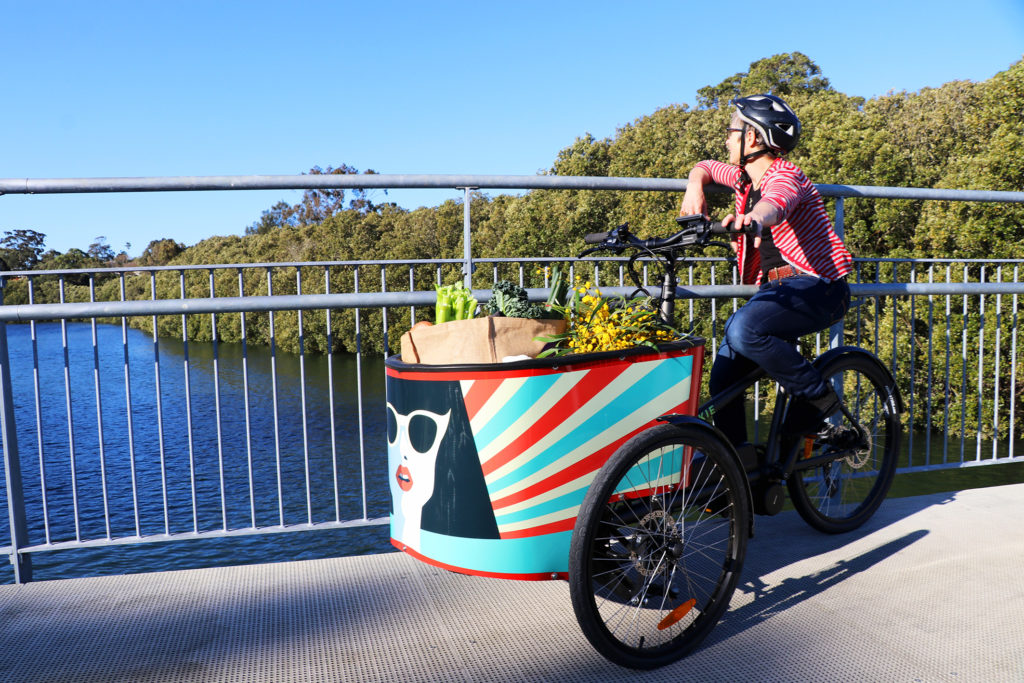 The Krankie Whip E1 cargo Bike
The Krankie Whip E1 is many things. It's a workhorse, a fun machine, a trusted and reliable companion that is guaranteed to bring joy to your day, turning the mundane into the extraordinary. This trike will amaze you with its silky, nimble handling, its stopping power & the smooth ride offered by the front mono-shock suspension. Taking corners, the Krankie flies high above the pack, the tilting action provides an intuitive, natural, secure & joyful riding experience. No sweat carrying load on the Whip E1, be it your children, shopping, a hardware trip, a friend or family dog, this trike is ready to go & guaranteed to impress.
Normally retailing at $7100, Krankie will now be selling the Whip E1 direct to the public, passing on the savings for the customer's benefit.
We've reduced the price to $6450 for a set amount of stock, this offer won't last.
Exceptional value for a motorised trike of this design, quality and capability.
Krankie cargo bikes are available for test ride in Sydney, Melbourne, Brisbane & Adelaide.

– High Torque 250w Bfang BBS01B mid-drive motor system with 17Ah battery.
– Aluminium 6061-T6 frame for strength, style and convenience.
– A cargo capacity of 80kg, the 120L cabin is sleek, strong and aerodynamic in design, with 3 colours ( volcanic red, sky blue, sunset orange) to choose from. 
– Hydraulic Disk brakes on all wheels, high quality transmission componentry, adjustable stem and cushioned seat post as standard.
– Front mono-shock suspension for a smooth ride for both rider & passenger or cargo.
– Lean angle of up to 20 degrees.
– 24" front wheels for lower rolling friction.
– Park brake, fenders on all wheels.
– Customisable with many options available including a door, child seat & harnesses, tilt lock for loading/unloading, lockable lid, security lock & chain, vinyl wraps for personalisation, dog platform, rain hood & more.
MEASUREMENTS
Total Length:
Maximum Width:
Mass:
Maximum Load:
.
BRAKES
Rear Brakes:
Front Brakes:
.
FRAME
Rear:
Cabin Frame:
Seat Post:
Stem:
Suspension:
.
WHEELS & TYRES
Rear Wheels:
Front Wheels:
Rear Tyres:
Front Tyres:
.
207 cm
90 cm
39 Kg
80kg + rider
.
.
Tektro HD-T290-R  Hydraulic
Tektro Auriga Twin  Hydraulic
.
.
AL 6061-T6 tubing
AL 6061-T6 tubing
Satori Cushioned
Satori Easy-Up (100mm adj.)
Front, DNM shock
.
.
26″ Alex rims, Novatec hub
24″ Alex rims, lefty hub
Kenda K1067 26″ x 1.75
Kenda K193 24″ x 1.5
TRANSMISSION
Crankset:
Deraileur:
Shifter:
Cassette:
.
CABIN
Cabin Volume:
Maximum Cabin Width:
Maximum Cabin Length:
Options:
.
POWER UNIT
.
As per supplied motor
Shimano Alivio (rear only)
Shimano Alivio 9 speed Rapid Fire
9 speed 11T-34T
.
.
120 L
532 mm
830 mm
Door, Backrest with restraints, Canopy, Security lock
.
– High torque 250w Bfang BBS01B mid-drive motor
– LCD display with battery & trip data
– 36V battery (17Ah option)
– Quality Panasonic cells
– Pedal & throttle start
– Shift sensor